Hardscape Services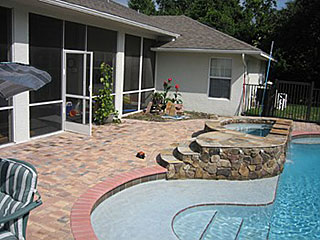 Surfside Pavers has been at the fore of the hardscaping industry in Melbourne, and Vero Beach for over 25 years now. Our vast expertise has seen us create beautiful outdoor spaces on properties in and around Stuart, Cocoa, Port St Lucie, and Suntree. We have handled projects in Viera, Palm Bay.

As active members of the Interlocking Concrete Pavement Institute, HBCA, and TCBA we have the certification that ensures you will get industry standard solutions when you opt for our services. Over the years, we have also completed a number of projects in Sebastian, Fort Pierce, Titusville and the surrounding areas. The range of services we offer includes:


Pool Coping
If you have a pool on your property, it becomes necessary to install good pool coping. These units are installed all along the edge of the pool to give it a very well defined and distinctive look. We have coping of different styles and materials that you can choose from. Our team of expert installers will ensure the pool coping installation will be done to industry standards. We handle these jobs as part of a poolscape design and paving project. If you need to replace existing pool coping, we can tackle that project for you as well. We use top quality products from companies like Belgard and Oldcastle, which helps ensure the beauty, resilience and longevity of your outdoor spaces. Read More About Pool Coping »


Paver Driveways
Your driveway sees a significant amount of vehicular and foot traffic. Over the years, this can cause it to become worn out, stained, dull and dated. One of the best ways to ensure that you have a resilient and easy to maintain driveway that can last for a number of years with minimal maintenance, is to get pavers installed on it. We provide customized paver driveway design and installation solutions. You can choose from brick, concrete or natural stone pavers. We provide the best solutions at the most cost effective pricing and you can opt for paver products from the topmost brands such as Oldcastle and Belgard. Read More About Paver Driveways »


Paver Walkways, Entryways
The entryway to a commercial property or even to a large residential one will see regular use and this can cause the paving to become damaged. This is why we recommend the use of paver stones for walkways and entryways. Our company uses the best quality paver products from companies like Belgard, ensuring the longevity and resilience of your outdoor spaces. You can choose from a wide variety of paver products made of natural stone, concrete or brick etc. As ICPI-certified installers we have the skill and experience to handle all your paver installation requirements in the best possible way. Our team of designers works closely with you in order to make sure that your paver walkway or entryway is a distinctive and durable. Read More About Paver Walkways, Entryways »


Retaining Walls
Retaining walls are resilient, specially-engineered features that can be installed in any area of your landscape. Their primary purpose is to provide support to the landscape and prevent soil erosion. If you need any outdoor features installed in an area where there is a slope, we would have to excavate that particular space. The backfill would need a certain amount of support in order to prevent it from collapsing. This is where retaining walls would be built during the course of your landscaping project. We use the best quality retaining wall systems manufactured by companies such as Belgard, which not only add to the aesthetics of your landscape, but provide it the required support and stability as well. Read More About Retaining Walls »


Removal of Existing Surfaces
Since the outdoor spaces of your property are constantly exposed to the elements, it makes them more vulnerable to wear and tear over the years. Even with regular maintenance, there are some features that can begin to look dull, stained or even become damaged in some way. If you find that any of the hardscaping features in your landscape have begun to look dated, feel free to contact us. While we do handle new installation projects, we also have the expertise to handle all types of removals of existing hardscape surfaces. Our team of expert designers can replace these old materials with new and resilient ones that will improve the appearance and condition of your landscape. Read More About Removal of Existing Surfaces »


Overlays of Existing Surfaces
There are times when clients feel that the concrete installations in their landscapes need to be spruced up. For instance, if you have a boundary wall or even a retaining wall made of concrete masonry blocks and feel that it looks too plain or boring; we can help you revamp the appearance of this structure. There are a number of different types of veneers available on the market that can be affixed as overlays on existing surfaces. Aside from this, we can also handle paver and concrete overlay projects using the best quality products and workmanship. Read More About Overlays of Existing Surfaces »

If you are looking for high-grade hardscaping services, we are the company to contact. You can call Surfside Pavers at 321-951-1716(West Melbourne location) or 772-770-3890(Vero Beach location). We are here to answer all your questions and provide quotes for your next hardscaping project. You can also send us an email via this Contact Us form. When you hire us for your hardscape design and installation project, you can rest assured that your landscape will be unique and stunning in every way.
We service Brevard County, Indian River County: