Pool Coping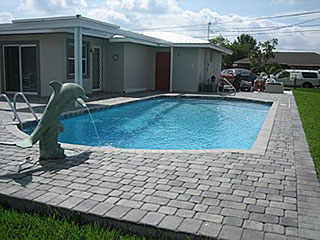 Swimming pools are a very common feature on commercial as well as residential properties. These areas need to be designed with care and attention to detail. The water, constant use as well as exposure to the elements can take their toll on various installations in the poolscape. One of the most important aspects of any pool is the coping.

These are the units installed along the periphery of the swimming pool in order to improve safety along the water's edge. The right kind of pool coping can define the beauty of your swimming pool and make the area safe for use as well. We are the hardscaping specialists that can handle all types of pool coping installations for new swimming pools as well as swimming pool upgrade projects.


Local Pool Coping Contractors
Surfside Pavers has been at the fore of the hardscaping industry in Melbourne, and Vero Beach for over 25 years now. Our vast expertise has seen us create beautiful outdoor spaces on properties in and around Stuart, Cocoa, Port St Lucie, and Suntree. We have handled projects in Viera, Palm Bay.

Over the years, we have also completed a number of pool coping projects in Sebastian, Fort Pierce, Titusville and the surrounding areas. As active members of the Interlocking Concrete Pavement Institute, HBCA, and TCBA we have the certification that ensures you will get industry standard commercial and residential pool coping installations when you opt for our services.


Pool Coping- The Functions
Let's take a closer look at exactly how concrete aggregate pool coping is a great addition to your poolscape. It serves a number of different functions including:


Provides a visual demarcation between the pool and the surrounding areas.
The chlorinated water of your swimming pool can cause significant damage to wooden decking or even the paver units installed in areas adjacent to the pool. When you get natural stone coping installed along the edges of the pool it ensures that the surrounding materials do not become deteriorated before their time.
These units improve the safety of the pool areas very effectively, preventing cuts from the sharp edges. They also help prevent slippage.
As mentioned earlier, good quality concrete coping can lend a very distinctive look to your poolscape.
Expertly installed swimming pool coping makes your pool look more expansive, turning it into a focal point in your backyard.
Custom Swimming Pool Coping Installations
As you can see, that are a number of different reasons why installing pool coping is a great idea. Today, there is a large number of pool coping products on the market making it necessary for you to research before you make your choice. As a company that has vast experience in this industry, our expert designers can provide you all the information you need about the different types of products and what their advantages and disadvantages are.

This detailed information goes a long way in helping you make a better decision about the type of coping products you want. We use the best quality coping products in our work and ensure that only seasoned coping installers handle the job. This helps ensure the perfect aesthetic and finish to your pool.

If you are looking for high-grade paver and coping installation services, we are the company to contact. You can call Surfside Pavers at 321-951-1716 (West Melbourne location) or 772-770-3890 (Vero Beach location). We are here to answer all your questions and provide quotes for your next hardscaping project. You can also send us an email via this Contact Us form.
We service Brevard County, Indian River County: