Overlays of Existing Surfaces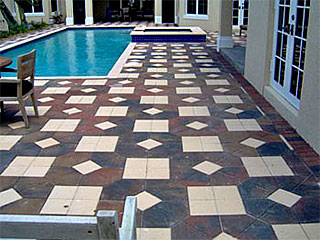 Various surfaces in a landscape such as driveways, walkways, pathways, poolscapes as well as entryways and courtyards etc. are open to the air. They have to endure whether changes, exposure to the UV rays of the sun as well as vehicular and foot traffic and more. All of these factors ultimately take their toll on these surfaces causing them to look dull and become deteriorated.

If you have noticed that any area in your landscape is looking dated and lack-luster, simply give us a call and speak with our expert designers. Surfside Pavers has been at the fore of the hardscaping industry in Melbourne, and Vero Beach for over 25 years now. Our vast expertise has seen us create beautiful outdoor spaces on properties in and around Stuart, Cocoa, Port St Lucie, and Suntree.


Outdoor Surface Replacements
While we do install various hardscape features from scratch, we also handle a large number of landscape upgrade projects. We have tackled projects in Viera, Palm Bay. Often, these jobs involve resurfacing of existing areas such as driveways etc. We can handle these jobs to the highest levels of quality and efficiency. As active members of the Interlocking Concrete Pavement Institute, HBCA, and TCBA we have the certification that ensures you will get industry standard solutions when you opt for our services.


Types of Paving Overlays
Over the years, we have also completed a number of projects involving overlay of existing surfaces in Sebastian, Fort Pierce and Titusville, Melbourne and the surrounding areas. There are a number of different types of overlays that can be used to spruce up the look of your outdoor spaces quickly and cost effectively. Some of the options include:


Stamped Concrete Overlays – If your outdoor flooring has got a concrete surface that has begun to look old or is showing signs of wear or damage, you can opt for stamped concrete overlays. These decorative elements add depth and beauty to ordinary concrete flooring.


Thin Concrete Overlays - Today, there are a number of thin concrete overlay products on the market that can be used to resurface damaged, stained or dated concrete. These products can be applied via compressed air/hopper gun, squeegee or trowel.


Quartz Overlays - It is possible to create a very distinctive look in your outdoor areas by using natural quartz combination products. These are available in a range of colors and textures to add the interest quotient to your driveway, walkway entryway etc.


Seamless Natural Stone Overlays - These unique products are extremely resilient and lend a stunning look to the landscaping. Using a trowel, they can be easily applied to existing substrates to produce an attractive industrial concrete, or polished concrete look.


Commercial and Residential Exterior Surface Overlays
Some of the other resilient and durable outdoor flooring options include brick overlays and natural stone overlays. You can choose from a range of styles, colors, shapes and textures to suit your project requirements. We work very closely with individual property owners as well as engineers, landscape designers and landscaping contractors as well.

If you are looking for high-grade pool hardscape overlay installation services, we are the company to contact. You can call Surfside Pavers at 321-951-1716 (West Melbourne location) or 772-770-3890 (Vero Beach location). We are here to answer all your questions and provide quotes for your next hardscaping project. You can also send us an email via this Contact Us form.
We service Brevard County, Indian River County: