Paver Driveways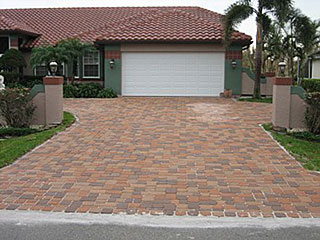 Driveways are a very important and integral aspect of most commercial and residential properties. These features not only have to endure vehicular traffic but also see a lot of foot traffic, making them more prone to wear and tear. Many properties across the region do have asphalt as well as concrete driveways that are quite resilient.

However, these materials are no match for paver stones. If you are planning on getting a new driveway installed or feel that your existing one requires a new surface, you should consider getting paver units installed. Surfside Pavers has been at the fore of the hardscaping industry in Melbourne, and Vero Beach for over 25 years now.

Our vast expertise has seen us create beautiful outdoor spaces on properties in and around Stuart, Cocoa, Port St Lucie, and Suntree. We have handled paver driveway projects in Viera, Palm Bay, as well as Orlando. Over the years, we have also completed a number of paver driveways projects in Sebastian, Fort Pierce, Titusville and the surrounding areas.


Certified Paver Installers
While good quality paving products like the ones manufactured by Belgard are extremely strong and durable, to a certain degree their sustainability depends on how well they have been installed. These products are covered by warranties only when they are installed by certified paver installation contractors.

Our expert and creative designers work very closely with you in order to understand what your specific requirements are in terms of how you want your paver driveway to look. They will provide you material samples as well as designs and ideas in order to create a very unique and distinctive look on your driveway.

As active members of the ICPI, HBCA, and TCBA we have the certification that ensures you will get industry standard solutions when you opt for our services. We have seasoned paver installation specialists that have worked on scores of residential and commercial paver installation projects.


Benefits of Paver Stones
Getting pavers installed on your driveway, is one of the best decisions you can take with reference to the installation of features in your landscape. There are a number of benefits to using pavers such as:


You can choose from a variety of colors, sizes, shapes, textures as well as styling to create a unique look in your landscape.
Pavers are extremely resilient. Since they are individual units that are fitted together to create your driveway surface, you don't have to worry about them cracking like a concrete pavement would.
The installation is easy in comparison to other surfaces, which reduces the overall cost of the paver driveway project.
Paver maintenance is very easy and all it needs is a regular hosing to keep it looking great.
In case of a severe impact or damage to your pavers, only the affected units would need to be replaced. This also reduces the ownership cost of your paver driveway.

If you are looking for high-grade paver driveway installation services, we are the company to contact. You can call Surfside Pavers at 321-951-1716 (West Melbourne location) or 772-770-3890 (Vero Beach location). We are here to answer all your questions and provide quotes for your next hardscaping project. You can also send us an email via this Contact Us form.
We service Brevard County, Indian River County,
Martin County and Saint Lucie County: