Paver Walkways, Entryways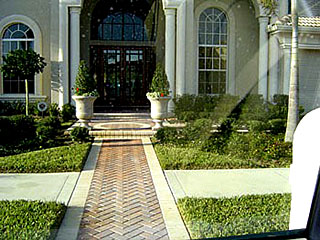 The landscaped areas on your commercial premises or home improve the aesthetics, usability and value of your property. However, these spaces need a significant amount of maintenance because they are constantly exposed to the elements. While good quality hardscaping materials do provide years of service that can happen only if the materials are chosen with care.

Areas such as walkways, pathways, entryways, etc. need the right kind of surfaces in order to provide the right kind of functionality. This is why we recommend the use of paver stone products in these installations. Surfside Pavers has been at the fore of the hardscaping industry in Melbourne, and Vero Beach for over 25 years now.

Our vast expertise has seen us create beautiful paved areas on properties in and around Stuart, Cocoa, Port St Lucie, and Suntree. We have handled projects in Viera, Palm Bay. Over the years, we have also completed a number of paver walkways projects in Sebastian, Fort Pierce, Titusville and the surrounding areas.


Custom Paver Design and Installation
As mentioned at the outset, pavers can be used in various areas of the landscaping. These are extremely versatile products that are available in a range of colors, designs, styles as well as shapes and sizes. Concrete interlocking pavers from companies like Belgard our top of the line products that add to the beauty, resilience and sustainability of your landscape. These paver units are available in very beautiful designs and textures and can be used in outdoor spaces.

Aside from this, paver stones are extremely easy to maintain as well as a replace in case of damage in due to any heavy impact. However, the units are resilient and can provide years of trouble free service. While it's extremely important to use good quality products in these installations, it is equally important to ensure that expert professionals handle the actual installation.

As members of the ICPI, HBCA, and TCBA we have the required certification that ensures you will get top quality solutions when you opt for our commercial or residential paving installation services. We have vast experience handling all types of projects. Over the years, our certified paver installers have worked with individual homeowners and commercial property owners as well as landscape designers, architects and engineers.


Paver Walkway Plans
We have the ability to provide tailored solutions that meet your specific needs. While we never compromise on the quality of our paver walkway services, you will find that our paver installation cost is extremely reasonable. Our company gives a lot of weight to aspects such as project management and customer service and we never falter on these counts. You can rest assured that when you entrust us with your paver installation project requirement, it will be handled efficiently, safely and within the stipulated timeframe and cost.

If you are looking for high-grade paver entryways and walkways installation services, we are the company to contact. You can call Surfside Pavers at 321-951-1716 (West Melbourne location) or 772-770-3890 (Vero Beach location). We are here to answer all your questions and provide quotes for your next hardscaping project. You can also send us an email via this Contact Us form.
We service Brevard County, Indian River County: