Retaining Walls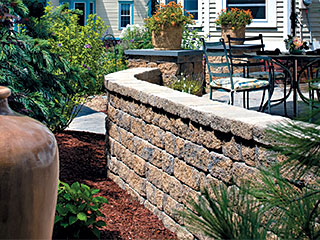 Creating stunning landscapes involves choosing the right design, materials and installers. Aside from this, there are certain aspects that need to be kept in view such as grading the land well before installing any kind of features in the landscaped areas. The stability of the soil has a very important role to play when it comes to the sustainability and resilience of your landscapes.

If any area of your landscape has sloping land that needs to be leveled off to create space for an outdoor feature, a retaining wall would be required to provide support to the dugout slope. These walls need to be built with care based on stable and solid designs and plans.

Surfside Pavers has been at the fore of the hardscaping industry in Melbourne, and Vero Beach for over 25 years now. Our vast expertise has seen us create beautiful retaining walls on properties in and around Stuart, Cocoa, Port St Lucie, and Suntree. We have handled projects in Viera, Palm Bay.

As active members of the Interlocking Concrete Pavement Institute, HBCA, and TCBA we have the certification that ensures you will get industry standard solutions when you opt for our services. Over the years, we have also completed a number of retaining wall designs and build projects in Sebastian, Fort Pierce, Titusville and the surrounding areas.


Retaining Wall Plans
The primary purpose of a retaining wall is to provide solidity to your landscape and prevent the erosion of soil. This is why special engineering is required to build these structures that are entirely different from garden or boundary walls. Not only do they provide support to sloping or graded land but also lend a very defined and distinctive look to your landscape.

They are ideal for installing along multi-tiered landscapes and can be used to construct walls with in built seating or planters incorporated into them. While these walls are a definite value-add to your landscape, we need to be designed with care and attention to detail and our experts are able to provide you the best quality retaining wall construction.

We understand that every landscape will have a specific layout and requirements and this is what we cater to when we provide customized services to our clients. We use the best quality Belgard retaining wall systems in our work. The use of high grade products such as these and the expertise of our installers is what ensures the resilience and durability of your retaining walls.

These modern or concrete blocks come in a variety of shapes, sizes and finishes. For example if you prefer an old world aesthetic, you can get block retaining walls that have the texture and finish of natural stone. On the other hand if you want something modernistic you are sure to find something that suits your requirements as well. We provide the best quality services and the most affordable pricing. Regardless of where you want your landscape retaining wall built or what the size of it is, we are the experts that can provide you the best quality solutions.

If you are looking for high-grade retaining walls installation services, we are the company to contact. You can call Surfside Pavers at 321-951-1716 (West Melbourne location) or 772-770-3890 (Vero Beach location). We are here to answer all your questions and provide quotes for your next hardscaping project. You can also send us an email via this Contact Us form.
We service Brevard County, Indian River County: