Old Chicago Brick-Mortar Set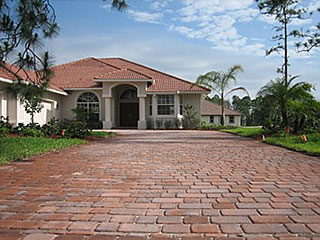 Although the home improvement and landscape products market is flush with a large variety of materials, there are certain products and features that are classics. When used in the right measure, at the right place and in the right feature, they can create a stunning impact in the outdoor spaces of your home. Old Chicago brick is one such product that is not only a rare but amazingly impactful as well.

Surfside Pavers has been at the fore of the hardscaping industry in Melbourne, and Vero Beach for over 25 years now. Our vast expertise has seen us create beautiful outdoor spaces using old Chicago brick and mortar installations on properties in and around Stuart, Cocoa, Port St Lucie, and Suntree.


Local Chicago Brick Installers
We have handled projects in Viera, Palm Bay, as well as Orlando. Over the years, we have also completed a number of similar projects in Sebastian, Fort Pierce, Titusville and the surrounding areas. Many of our clients are amazed at the stunning effect that these classic Chicago bricks create in their landscaping. They can be used in various areas and are extremely versatile. Over the years we have used these products for installations such as walkways, driveways, entryways as well as courtyards etc.

They create a vintage look that is extremely striking. Aside from this, the bricks are also very durable when installed by experts like the ones at our company. As active members of the Interlocking Concrete Pavement Institute, HBCA, and TCBA we have the certification that ensures you will get high grade solutions when you opt for our services.


Create a Focal Point With Chicago Brick
Though many landscape themes and designs may have a contemporary or modernistic look, the strategic use of old world Chicago pavers for certain features, creates a focal point in the outdoor spaces. While these materials are extremely impactful, they need to be incorporated very skillfully into the existing landscape. These reclaimed bricks have some imperfections, which lend a very distinctive and a unique look to the features be are used in.

Old Chicago brick pavers have dimensions similar to standard brick, and you will find they are available in a range of terracotta hues that can span everything from salmon to medium pink. We procure old Chicago bricks from reliable and credible suppliers and you can rest assured that they are the genuine thing.


Custom Chicago Brickwork for Residential and Commercial Properties
While these units are extremely resilient and suitable for all types of outdoor applications, they do not work very well in areas that experienced extreme weather fluctuations as that can degrade the bricks. Since the climatic conditions in Florida aren't extreme, they are ideal for properties located here. Today, most recovered Chicago bricks are used in warmer climate construction. We will ensure that your Chicago brickwork design is stunning in every way and that it stands out emphatically in your neighborhood. The icing on the cake is that these classic installations up the value of your property as well.

If you are looking for high-grade Old Chicago bricks in paving services, we are the company to contact. You can call Surfside Pavers at 321-951-1716 (West Melbourne location) or 772-770-3890 (Vero Beach location). We are here to answer all your questions and provide quotes for your next hardscaping project. You can also send us an email via this Contact Us form.
We service Brevard County, Indian River County,
Martin County and Saint Lucie County: